There are plenty of CSS tools are available on internet but the few tools are useful .These tools can help you in creating forms, buttons, pages and lots of different CSS generated stuff.
Today we have collected 10 useful CSS tools, which will make your life easier. I think you should be already familiar with some of tools so you have to find out new ones. if you think i missed something you can tell in the comment box.
[ad#co-1]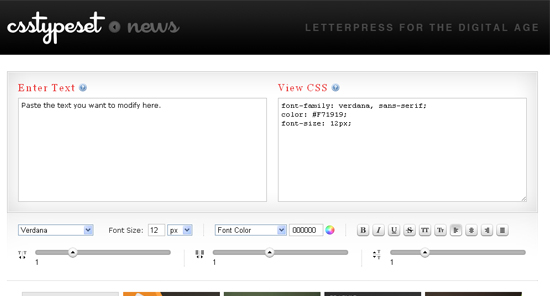 CSS Type Set is the most useful typography tool, that will help you how to style their web content.
Em Calculator is a small JavaScript tool which helps making scalable and accessible CSS design. It converts size in pixels to relative em units, which are based on a text size.
Whenever starting a web project, I used to always begin with the tedious process of creating the basic framework structure for the site. This included creating folders for CSS and images, downloading and including jQuery, and adding a CSS reset, among other things.
This is the another very helpful tool to generate sprites for your web projects.
Use this online tool to easily and visually create those popular "XHTML valid" micro buttons (80×15). You can also opt for the larger 88×31 button instead. Enjoy!
Use this utility to compress your CSS to increase loading speed and save on bandwidth as well. You can choose from three levels of compression, depending on how legible you want the compressed CSS to be versus degree of compression. The "Normal" mode should work well in most cases, creating a good balance between the two.
This tool will help you generate more flexible versions of Blueprint's grid.css and compressed.css and grid.png files. Whether you prefer 8, 10,16 or 24 columns in your design, this generator now enables you that flexibility with Blueprint.
This generator will create a fluid or fixed width floated column layout, with up to 3 columns and with header and footer. Values can be specified in either pixels, ems or percentages.
Welcome to CSS Drive's Image to Colors Palette Generator! Upload an image to generate a color palette based on the image's primary colors. Useful for quickly grabbing a particular color within an image for inspiration.
Check Cascading Style Sheets (CSS) and (X)HTML documents with style sheets
if you would like to receive more tools from us, please consider subscribing to our feed by RSS or by email.