It's my pleasure to announce you that we have great Giveaway here on Developers Paradise. We are hosting a Business Card Giveaway which is sponsored by Uprinting.com – a professional online printing company. One lucky winner will receive 250 business cards.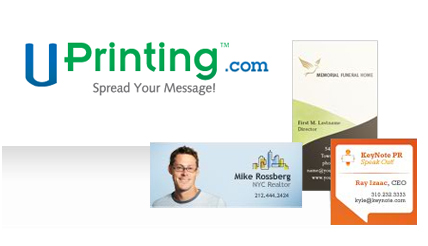 Thanks to the generosity of UPrinting.com One of our readers will be chosen to win a set of 250 business cards.
Giveaway Prize
One lucky winner will receive 250 business card
Size: 2 x 3.5", 2 x 3", 2 x 2" (square card) or 1.5 x 3.5" (skinny card)
Paper: 14 pt gloss cardstock, 14 pt matte cardstock or 13 pt recycled uncoated cardstock
Eligibility: Limited to US Residents due to shipping costs.
Shipping:Winners have to pay for shipping
How to enter the giveaway?
Tell us in the comment section of how you might use the 250 Free Business cards.
Make sure you leave your name and a valid Email Address. So we can contact you if you win.
Bonus Entries:
Subscribe to Developers Paradise via email subscription.
Tweet about this giveaway
Follow @uprinting on Twitter.
Follow @ajaydesign on Twitter.
Tweet about this giveaway (i.e. "@UPrinting @ajaydesign uprinting.com and aceinfowayindia.com/blog.com business cards giveaway http://bit.ly/90hh6x #giveaway")
Deadline
Winner will be chosen at random. One(1) winners will be getting 250 business cards. Contest ends on January 20, 2010.
The winner will be announced on January 23, 2010.
Good luck everyone!
About U-Printing.com
For over 25 years, UPrinting has been a trusted leader in online printing, featuring its signature easy-to-use website and the famous Free File Review, a complimentary proofing service which requires no upfront payment. UPrinting offers convenient marketing support services such as design, lists, and direct mailing to help grow small and medium-size businesses nationwide.
Powered by brand new fully automated in-house Komori presses and CREO direct-to-plate, we offer faster turnaround with minimal human error and lower overhead cost. This allows us to provide customers with consistently high-quality printing at the lowest possible prices.