There are thousands of blogs and tutorials websites are available on the internet but not all of the information is useful or of good quality. In this showcase i have collect 4 excellent web design e-books for the web designers and web developers. Click the Covers to enter the author's website!

Web Standards Solutions: The Markup and Style Handbook
This book is your essential guide to understanding the advantages you can bring to your web pages by implementing web standards and knowing precisely how to apply them.
The Principles of Beautiful Web Design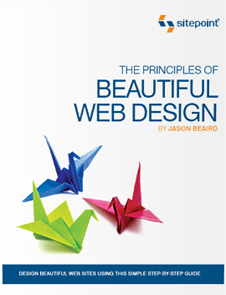 Tired of making web sites that work absolutely perfectly but just don't, well, look very nice? Using The Principles of Beautiful Web Design, you'll see just how easy it can be to create aesthetically pleasing and usable web site designs.
The Art & Science Of CSS
Beautifully presented in full color, this book will teach you how to apply innovative CSS-based techniques to create visually stunning headings, forms, menus, navigation, backgrounds, and much more…
Designing for the Web
A Practical Guide to Designing for the Web aims to teach you techniques for designing your website using the principles of graphic design. Featuring five sections, each covering a core aspect of graphic design: Getting Started, Research, Typography, Colour, and Layout. Learn solid graphic design theory that you can simply apply to your designs, making the difference from a good design to a great one.
Which one is your favorite? Please share with us, Comment Us.
if you would like to receive more inspiration from us, please consider subscribing to our feed by RSS or by email.